Exeter NH Lifestyle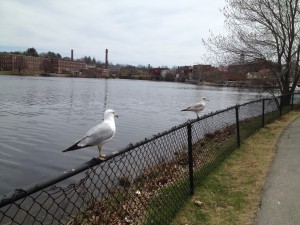 Last week while working out of our Exeter office I was able to take a nice noon time walk along the Squamscott river at Swasey Parkway. The day was sunny albeit a bit on the chilly side. I laced up my sneakers, turned my ipod on and walked down along Water Street down to the Swasey Parkway. Spring has had a late start in New Hampshire and Exeter is no exception. Even so,  I could see flowers starting to sprout and grass turning green. The walk along the Swasey Parkway was peaceful and quiet with just a few other people out enjoying the weather.  Exeter NH lifestyle includes parks, rivers, shops, night life and of course Phillips Exeter Academy.
From the Town of Exeter's website info on The Swasey Parkway

Swasey Parkway was a gift to the Town of Exeter from Ambrose Swasey in November 1931.  The Parkway follows the Squamscott River and is lined with trees and park benches for all to enjoy.

A new performance Pavilion was completed on the Parkway in 2007. The Pavilion is used for the annual Parks and Recreation summer concerts and other events. The park is the perfect place for outdoor activity. Jogging, picnics, walking, or just enjoying the fresh air.
Exeter NH Lifestyle and Real Estate
Our Exeter office is located right on Water Street across from the famous Exeter Bandstand which by the way was also a gift to the town by Ambrose Swasey and no matter what season or time of year downtown Exeter is a bustling historic community.
If you're  interested or know someone who is thinking of buying or selling in Exeter please give us a call at 603-944-9172. Real estate in Exeter is plentiful with many different styles of homes thus assuring something for every budget and we would love to help with all your Exeter NH real estate needs.
Squamscott River Swasey Parkway Video

[idx-listings city="Exeter" propertytypes="1043″ orderby="DateAdded" orderdir="DESC" count="5″ showlargerphotos="true"]