Portsmouth NH Haunted House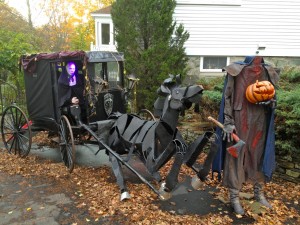 If you like spooky haunted houses there is a fantastic home in Portsmouth NH that is a must visit.   The owner creates "magic every year" according to a locals who enjoy being totally creep-ed out by the displays.   The owner has transformed their garage and garden into an unbelievable scary,  freaky show with a lot of surprises.  People come from all over  to see it, and it's open to the public till Halloween for free.
Bring your camera and a change of clothes in case you wet your pants but no matter what, you'll have  a blast!  Open from 5 to 9pm nightly and located on Middle Road in Portsmouth near the intersection of South Rd.
Come visit the All Saints Walk In Clinic at the Portsmouth Haunted House and Cemetery… if you dare!
Portsmouth NH Haunted House Video by Monika McGillicuddy
If you are looking for a home in Portsmouth please see our search results below based on the newest listings entering the market.
[idx-listings city="Portsmouth" statuses="1″ propertytypes="1044,1043″ orderby="DateAdded" orderdir="DESC" count="5″ showlargerphotos="true"]