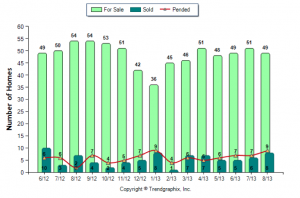 Chester NH and the Rising Real Estate Market Still Steady.
As you can see, Chester's real estate market is chugging along at a steady pace. Inventory is down 9.3% over a year ago, August  2012 vs August 2013. It is down 3.9% over a month ago. Inventory is down 2.0% from June through August of this year as compared to last year.
Pending Home Sales Up
Pending  home sales are up 28.6% over a month ago and it skyrocketed to 350 %  over a year ago but up 60.0% over the last 3 months compared to the same three months a year ago. That would be  June, July and August. This tells us we had a very strong spring and beginning of the summer market.
Sold Homes Up.
We are seeing that single family homes that sold are up from a year ago at 14.3%. 7 homes sold in August of 2012 and 8 in August of 2013. Sales were up 33.3% from July to August of this year.
June, July and August of this year were down 5% compared to the same time frame as last year. There were 19 home sales in 2013 and 20 in 2012.
The average active sales price in Chester is $358000 and the average sold price is $360,000. Average days on market in August was 145 compared to 80 in July and 106 in June. The average square foot price was $127.00 per sq. foot. Down from $140.00 per sq. ft. in July.
All in all the Chester real estate market is still moving along smoothly.
If you are looking to buy a home in Chester, NH see the new listings for sale below.
See all Real estate for sale in the town or city of Chester.
(all data current as of 12/6/2013)
Listing information deemed reliable but not guaranteed. Read full disclaimer.