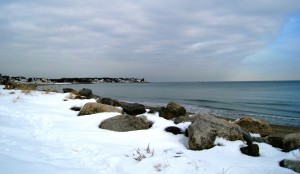 Reprinted below is Peter Francese's last article for the New Hampshire Association of REALTORS. We have always enjoyed Peter's market reports and while we might not have always agreed with him, he definitely has always given us food for thought. And this last post is no different. While things are looking up in the New Hampshire real estate market we can all learn from the past few years of what was a terrible market for many.
In real estate as in life, the past may not be prologue
by Peter Francese
The late Canadian sociologist Marshall McLuhan once said: "We drive into the future using only our rearview mirror." That may sound like a bad idea, but it can
actually work OK as long as future real estate market conditions are reasonably close to what they have been in the past.
Since I have been writing for you about New Hampshire real estate trends for the past five years, it seems fitting that this, my final column, be a brief review of that period. That to be followed by a discussion of how the next five years might be the same, or might be different enough to suggest a change in market direction.
For a clear picture of the past five year's residential home sales, please click to view the monthly sales spreadsheet (which actually goes back seven years). The data shows that except for relatively small monthly fluctuations, the median selling price of homes, which was about $250,000 in 2008, fell to about $200,000 in 2009 — where it has stayed for past four years.
That spreadsheet also shows that from 2008 through 2011, unit home sales averaged about 900 a month, but with the usual large seasonal fluctuations. However, in 2012 on average home sales jumped to almost 1,100 per month. That caused a huge $500 million sales volume jump in 2012 over annual volume for the previous four years.
So, the obvious question is: How are market conditions in New Hampshire over the next five years likely to be different, or likely to be the same from the past five years? Was the 2012 surge in sales volume an indication of what's to come, or might we be returning to the flat sales of the four years before that one year boost?
To answer those questions, here are factors that would tend to drive New Hampshire home sales and home prices higher over the next five years, followed by the factors that could work against growth in our state's residential real estate market.
New Hampshire is blessed with one of the highest household incomes in the nation. Our state's median household income is 24 pecent higher than the national median and ranks seventh out of 50 states. That high income is close to that of some other states in the Northeast, but here it is uniquely combined with no state income or sales tax.
New Hampshire is also fortunate to rank very high in quality of life measures, and very low in crime rates or poverty rates. As a result, our state is often called a great  place to either retire or own a vacation home. Our state has a robust second home market and ranks third in the nation in percent of second homes to all homes.
On the other side of the ledger, here are a few factors that may work against continued positive growth in our state's residential real estate market during the next five years.
First must be that New Hampshire is now the nation's third oldest state in terms of median age (41.5 years, behind only Maine and Vermont).
It has not always been so. Since 1990, when our state's median age was about the same as the nation's, New Hampshire has had the distinction of aging faster than any other state. In median age, our state has now become older than Florida. That's not because we have higher numbers of old people like Florida, but because we have way too few young adults, due to high out-migration of them in the past two decades.
I don't think I have to remind any New Hampshire REALTOR that a major cause of that out-migration has been the lack of affordable rental or owner-occupied housing. Part of our high cost of housing is due to high and rising school and municipal property taxes, that despite declining school enrollment in nearly every district.
As is well known by now, members of the next big "generation" after the Baby Boomers are called Millennials. Nationwide, there are more Millennials than Baby Boomers. But due to past out-migration from our state, we have about 50,000 fewer Millennials than we would have if our state had a more normal age distribution.
Millennials are just 30 percent of New Hampshire adults, compared to 40 percent who are Baby Boomers.
Over the next five to 10 years, that deficit of younger first-time home buyers is likely to be a serious drag on home sales. But even if there were enough young first-time home buyers, too many young adults in New Hampshire already have a heavy mortgage without a home, in the form of the nation's highest student loan amounts.
The relationship between home sales, home prices and the cost of a state college education may not be obvious. But unless more young adults here can get a college education without taking on so much debt, more of them will have to leave for states where they can earn more and not have to pay so much for a place to live.
In any case, there will probably be a larger than normal number of homes for sale in our state over the next five years, as some Baby Boomers reach retirement age and maybe want to sell their home. But with so many fewer Millennials here, there may not be enough home buyers to match the number of Baby Boomer home sellers.
Perhaps the most important thing New Hampshire REALTORS can do over the next five years is to prevail upon our state university system to find a way to greatly lower tuition for those students who want to stay here and work here. Young people, whether they are college graduates or not, are not a problem, they are our future.
Instead of just watching young adults leave our state, perhaps we should be trying harder to get them to stay. One way to do that might be to offer them the same kind of higher density affordable housing that is often provided for anyone over age 55.
The bottom line is that despite the substantial New Hampshire advantages, the next five years may present REALTORS with challenges different enough to require new ways of thinking about where future home buyers and home sellers will come from and who they will be.
Finally, I wish to thank the NHAR Communications Committee and all of you who have supported my writing for you over the past five years. It has be a privilege and an honor to have been given this opportunity. But I'm not leaving Exeter anytime soon. If I can ever help any of you in your work, please do not hesitate to call or email.
My thanks and very best wishes to you all.
Peter Francese can be reached at peter@francese.com or 603-778-1779.