Ice Castle 2016  Lincoln NH
The amazing Ice Castle returns to New Hampshire!  Jay and I so enjoyed spending a cold afternoon visiting the Ice Castle last year and if you have never been this is really a magical experience. Ice Castle 2016 Lincoln NH  is set on an acre +/- is full of huge archways, waterfall, tunnels, slides and even has a huge throne to sit on.
The Ice Castle 2016 Lincoln NH is something you shouldn't miss and as I understand, it is one of only 3 in the country.  My advice is to go near dusk as it looks so pretty when the lights turn on and dress war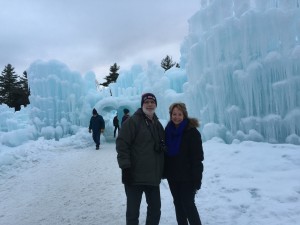 m wear sturdy footwear. Of course bring your camera and a selfie stick!
We took some videos and a ton of pictures when we went last year and we are planning on going this year as well.  They will be open into March, weather permitting. For tickets and details visit The Ice Castle  website
Videos of Ice Castle Lincoln NH 2015

Ice Castle