This is a must for all sellers in New Hampshire. Please allow your listing agents the right to upload your Sellers property disclosure, deed, tax bill and any other pertinent information that will help expedite the buyer's agents ability to write a purchase and sales agreement on your home. When this information is uploaded to the MLS it is accessible to all agents that would like to show your property.
The image below is a screen shot of what we look for when we sit down with buyers to see if there is property information uploaded to the MLS.

If the paperwork is not available to the buyer's agent then it is tough for us to be able to showcase your home. We need this information to intelligently show your home to our buyers. There are a lot of agents in different markets here in NH that do not accompany buyer's agents to your home. This is called single agent showings.
The frustration comes when we set up a showing and there is no paperwork uploaded to the MLS and there are no packages at your house for us to look at and give to our buyers. Your agent may have the paperwork in their office as a fax package but if we are not at a fax machine and the office is closed then it makes it difficult for us to get the paperwork. A lot of times we may play phone tag with your agent.
Just picture us showing your home on a weekend and there are no packages at the house or in the MLS. As good as we are we may not know everything about your home and there is information on that paperwork that our buyers will need to make an informed decision when it comes to trying to make an offer on your home.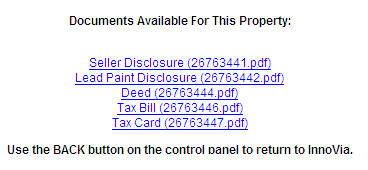 The image to the left is a screenshot of what we see when we open the image above in the MLS . As you can see we are able to download and print those documents so we can give them to our buyers to read. We can also save them to our computers and email them to our buyers too. It just makes for a much cleaner process.
So please if you would like to make the buying process much easier please ask your agent to upload the documents to the MLS.
In case your agent doesn't want you to, just read my previous post on"Why agents like to hide their sellers."