Favorite iPad apps for REALTORS
I got my iPad as my retiring President's gift from the NHAR Board of Directors…actually I got a gift certificate and couldn't wait to go pick my iPad out.
I got a 32 g wifi version as I figured most places I would use it at would have wifi and if not I would just use my Droid as a hot spot and connect that way. I've been playing with it and taking lessons at the Apple store at Rockingham Mall. I must say the folks at the store have been outstanding, I bought the One-on-One lessons and have used it for both my MacBook Pro and my iPad and feel it's the best 100 bucks I've spent in a long time.
Being a REALTOR and planning on using my iPad mainly for real estate I started searching for apps that would make my life easier and I also was hoping to be able to leave my laptop behind when taking short trips. While my iPad won't replace my MacBook Pro completely it is at the point where I can do most things with it.
My Top Apps for REALTORS
All of these apps are located in my "productivity folder" and are pretty well used all the time.
1. Dropbox This app is my absolute favorite. I can share things like documents, pictures and even videos and have them accessible on my laptop, desktop, smartphone as you can install DropBox on multiple devices and you can share folders with friends or your office.  I have a share folder with NHAR and with my husband Jay plus some family members too. I love Dropbox and it's free… you can sign up here if you'd like and I get extra free space if you do >>> get your DropBox
2.DocsToGo This app is a must for those of us who use Microsoft office. You can add your PDF files, Powerpoint, Excel, and Word documents and better yet it allows you to edit or work on those documents while on the iPad. At a recent board meeting I dropped all my electronic meeting info into my dropbox and shared them via DocTtoGo and was able to take notes on the documents and make changes. I'm sure I saved a few tress using it! Love DocsToGo and this is one app that I opted to pay for the premium version which was 15.00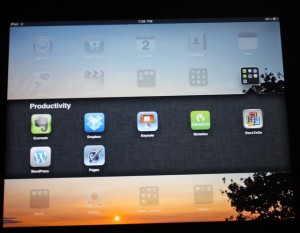 3. Evernote This app claims to help you remember everything and it does. Evernote is pretty cool, you can copy and clip things that you find interesting on a note or you can dictate a note.  I have Evernote on my Droid and Laptop too so that I can always have access to those notes. You can tag your notes and use key words so that you have an easy system for locating and filing all those notes. I'm using the free version but there is a premium version too with more options. Check out Evernote.
4. KeyNote This is Apple's version of Power Point but with more bells and whistles and is much easier to use. Using this app I can create awesome listing presentations or any type of presentation or slide show. I love how slick it looks and how easy it is to create a professional looking presentation and of course how impressive it is!  This app costs 9.99 at the itunes store… Get it- it's worth every penny!
5. Pages This app creates awesome fliers, newsletters, listing sheets or any type of documents you might need. It's a cool publishing app that works well with Keynote when putting together a listing presentation.  This app costs 9.99 at the itunes store.
6. Dragon Dictation This app is fun and free and maybe I can do without it but every now and then you might just not want to write out a note or  tweet or facebook status update… with this app I just speak into the mic on my ipad and it types out what I am saying and then I just select where I want to send the not to and it's all done. Dragon Dictation is pretty cool.
7. WordPress This app is a must for any Blogger using the wordpress platform as it will allow you to blog, pretty well maintain your blog and work in the dashboard all from your  iPad.  You can find The WordPress app at the itunes store.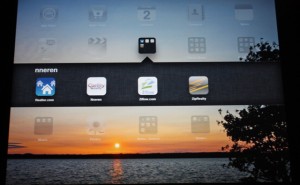 I will also buy before my next trip either GoodReader or iAnnotate PDF as my PDF reader and annotation tool as I think it is crucial for all REALTORS to have one of them available. I'm still torn as to which one to buy but one of them will soon be added to my productivity folder!  So that's it for my Productivity Folder and while I have a ton of other apps that I like I thought I'd save those for a follow up post.
NNEREN ~ Northern New England Real Estate Network app-less
If you are a New Hampshire REALTOR please note that our MLS, NNEREN does not as of yet have a cool app but I have created an MLS folder on the home screen of my iPad where I have book marked the NNEREN log in site and added the Zillow, Realtor.com  & ZipRealty apps.
I'd love it if you'd let me know what your favorite iPad apps are…by sharing we all get better!
Happy New Year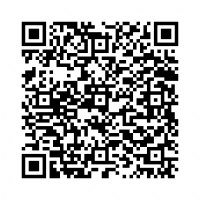 Jay and Monika McGillicuddy, NH REALTORS
Prudential Verani Realty
2 Main Street Hampstead NH