Ice Castles in Lincoln, NH
A few weeks ago I saw a post about the Ice Castles in Lincoln, NH.
So, last Thursday Monika and I worked out of our Moultonborough office and decided to take a ride up north to Lincoln to see what they looked like.
It was 26 degrees out so we wore our heavy coats and gloves to walk around the Ice Castles. It's amazing how they built these ice castles.They are hand made and they have about 20,000,000 pounds of ice in the area that they use. They hire lots of people to sculpt the ice castles.
Ice Tunnel
You enter under an ice covered tunnel which opens up to a large opening where you can wander around through maze like ice castles. Some are almost 20 feet high. A lot of nooks and crevices to explore.
They also had an area where there was an ice slide where children and adults slid down the ice to awaiting parents and friends.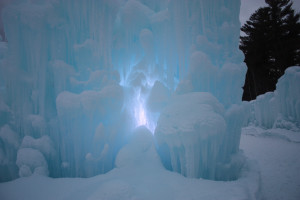 We didn't take advantage of the slide as it was too cold and I didn't feel like getting by whole backside full of snow and ice chips. It was cold enough out and I didn't want to get any colder.
Another amazing aspect to the castles are they are lit up for night time viewing. We arrived just in time when the sun had set and it was getting dark so the lights were being turned on while we walked around.  This is the best time to see the castles in my opinion.
The castes are located just off Interstate 93 at exit 32 in Lincoln. It is at the Hobo Railroad Station on Railroad Street. During the week tickets for 12 and over are $9.95. Weekends $12.95.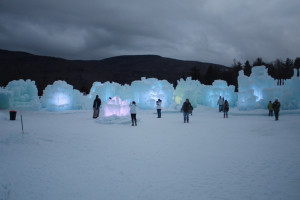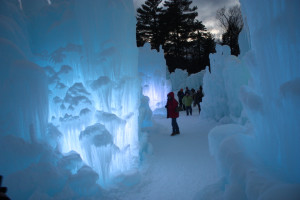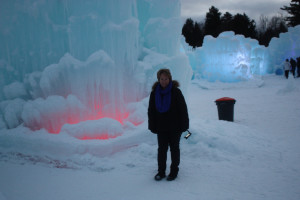 Ice Castle in Lincoln NH video