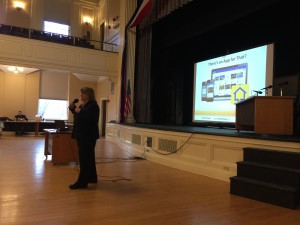 On March 26th Monika and I attended the NAR Tech Edge conference in Burlington, Vermont.  It was located at the Burlington Town Hall on Church Street.
The NAR Tech Edge Burlington Vermont was an all day affair that started at about 9:10 am and concluded at 4:30. My wife Monika was a panelist with other Brokers and talented tech people from around New England. They started off by talking about the Millennials and their wants and needs as they approach the home buying process.
It seems these buyers were raised on computers and mobile smartphones. This is pretty much how they communicate along with Social Media. So, when it comes time for them to search you out your website must be mobile ready.
The day was jam packed and I particularly enjoyed the app session and tips on connecting with consumers.
NAR Tech Edge Burlington Vermont video