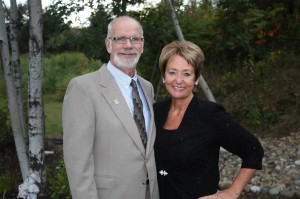 Jay and Monika McGillicuddy, New Hampshire REALTORS
Berkshire Hathaway HomeServices Verani Realty
1 Delahunty Rd. Windham, NH  and  1 Verani Way Londonderry NH
603-893-7999 (Windham office)
603-944-9172 (Jay or Monika)
Welcome to our blog. Please feel free to leave a comment or suggestion as this blog is all about real estate as a community and we need your input. We'll chat about the market…the good the bad and the ugly, about the communities and just about anything that catches our interest or yours if you let us know.
Just like yourself we have a life outside of Real Estate, a personal life.
We try very hard to find a balance between both …but the interesting part is that they often intertwine!
Our goal is to give you the opportunity to get to know us personally as well as professionally so that maybe you will think of us for all of your real estate needs.
We love referrals, they're safe with us! You can't imagine the honor we feel when someone trusts us with their friends or family. It would be our pleasure…..
A little history…
We live in Hampstead NH but our market area and communities are Southern New Hampshire and the Seacoast area.
We've both been working full time in real estate in the Southern NH area since 1984. That's a lot of years and a lot of experience! We work together as a real estate team for Berkshire Hathaway HomeServices Verani Realty in Londonderry and Exeter NH. Berkshire Hathaway HomeServices Verani Realty has 10 offices from Laconia and Tilton NH to points east and south.
We know our market…the communities, the homes and if you're looking for a personal touch…people who really care about helping you…you've come to the right place. Or if your just looking for information…that's okay too. We'll post sold data for the towns we serve or any other towns we get a request for. Feel Free to cruise the blog as we have articles going back to November of 2006.

We know that you don't care what we know ….till you know that we care!
Our special Interests…
We enjoy traveling in our 41 foot motor home to destinations that allow us to enjoy our favorite outdoor activities including long walks, bike riding, kayaking, golfing and simply relaxing on a sunny beach. We love the coast of Maine and go there as often as we can. The beauty of a motor home is that we can pick up and go anywhere with our house on wheels. It is fully equipped with everything needed to work remotely.
Jay is an avid golfer who once got a hole in one and won a car!!!
Monika tries to like the game but something about chasing those silly little white balls around in the woods simply escapes her.
Jay is also an avid pursuer of watching anything sports related on the TV, while Monika on the other hand enjoys watching good steamy soap operas like Grays Anatomy and Desperate Housewives. They both love watching Downton Abbey.
A Little Bit About Real Estate Training
I love teaching Real Estate related classes as well as Social Media…it is one of my passions. I try to bring a personal touch and love to share my knowledge and experience with all my students.

When teaching I travel throughout the state of New Hampshire as well as the New England states. I have several classes approved for CE credit by the NH Real Estate Commission. If you'd like to read more about my real estate training abilities check out my blog and my website.
Jay and Monika are a terrific team-they worked very hard and were particularly sensitive as we tried to negotiate with a friend. It was a pleasure to work with such knowledgeable, professional people!" Laura and Dave Atkinson NH
"It's been a learning experience for me, and Monika has been patient and wonderful."
Kim, Danville NH
Monika is great! I would highly recommend her. JW Sandown NH
I never imagined we would sell our home as quickly as we did; my head is still spinning! Jay and Monika were fantastic to work with- very professional and extremely knowledgeable. Our neighbor was envious of our success and wished they had used your services as well.
Huge Hugs to the McGillicuddys!!!! Sue and Al, Hampstead NH
" Jay and Monika went above the call of duty when helping us find our dream home. Not only are they our REALTORS for life they also became close friends. We recommend them highly and would not consider using any one else for any of our real estate needs." Brad and Liz, Raymond, NH
"Jay and Monika are a terrific team-We would recommend them highly. Bill and Ann, Salem NH
Read more testimonials about Monika and her training ability.
Disclaimer……
~All statistics and housing information provided by Northern New England Real Estate Network Service. Information is deemed reliable but not guaranteed. Seek the advice of an attorney on all legal matters.
~The opinions expressed on this blog are that of Jay and Monika McGillicuddy and no one else and those providing comments are theirs alone, and do not reflect the opinions of Berkshire Hathaway HomeServices Verani Realty or any employee thereof. Berkshire Hathaway HomeServices Verani Realty is not responsible for the accuracy of any of the information supplied by us on this blog. All information deemed accurate and is our best opinion and should not be relied upon without personally verifying it yourself. The information we post is believed to be accurate at the time of the post, our opinion of the situation may change at a later time with newer information or under a different set of circumstances. In other words, we reserve the right to change our mind from time to time. We are open to your comments on the blog post, however, we do reserve the right to delete your comment, if we find it offensive or hateful. Let's all play nicely in the sandbox.