Chester NH Scarecrows come to visit
If you've read my previous post about the Chester NH Annual Scarecrow competition, then you know the scarecrows will be displayed for the entire month of October.   This is a fantastic fundraiser for the Chester Historical Society and the town folks really support them by participating in what is becoming a very popular annual event.
Jay and I just happened to be passing through Chester on October 2nd and saw many awesome displays already out.  I know for a fact that not all the scarecrows were out at that time but we took a few pictures of some that were, a bit of a teaser to show you a little bit of what the 2012 display offers.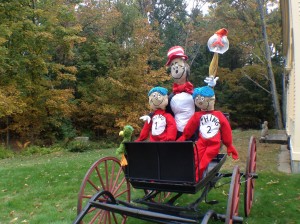 If you're planning to visit Chester NH and spend some time looking at the scarecrows it might be best to plan your route. you'll be amazed at the creativity so be sure to bring your camera.
Below is a list of the current known participating addresses.  The list may not be complete but it will give you a good idea as to where most of the scare crows are located.
Hope you enjoy your visit to Chester NH and the Scarecrows!
2012  Chester NH Scarecrow Locations
Arabian Way
Bayberry Road
Candia Road
Chester Street
Crawford Road
Croft Lane
Deerwood Hollow
Derry Road
Donna Road
Edwards Mill Road
Emerson Road
Evelyn Road
Fiddlehead Lane
Fremont Road
Granite Lane
Halls Village Road
Hanson Road
Harrantis Lake Road
Haverhill Road
Jennifer Drive
Knowles Mill Road
Lady Slipper Lane
Lane Road
Laurel Hill Road
Ledge Road
Macintosh Lane
Meadow Fox Lane
North Pond Road
Old Sandown Road
Orcut Road
Raymond Road
Red Squirrel Lane
Sandown Road
Sheepwash Drive
Stockman Hill Road
Sweet Briar Lane
Towle Road
Town Farm Road
Twin Fawn Run
Webster Lane